Your first appointment at CREATE Fertility
The first step to having fertility treatment is to come for a 1-hour Initial Consultation and an Advanced Ultrasound Scan with one of our expert clinicians.
You will be greeted by your patient coordinator who will see you throughout your treatment and they will introduce you to the clinician who will take you through your Initial Consultation and Scan. The clinician will talk through your medical history, carry out an advanced ultrasound scan and give you a personalised plan that is designed to maximise your chance of success.
You will then have a 30-minute appointment with your patient coordinator who will talk you through the treatment process, the costs, when to start and when counselling will be offered.
What to expect at your Initial Consultation

Welcome
Meet your patient coordinator who will see you through your whole journey with CREATE.

Medical review
You will meet your clinician, then they will carry out some basic health checks and discuss your medical history with you.

Advanced Ultrasound Scan looking at:
Your egg reserve - looking at the antral follicle count.
The health of your uterus and ovaries - by examining the blood flow to each.
The quality of your eggs - blood flow to the ovaries and follicles gives indirect information about the quality your eggs.
Any polyps, fibroids - or other factors that could be affecting implantation or causing miscarriages

Results
Your clinician will explain your scan results and take all of your circumstances in to account then recommend the best solution for your individual needs. If you are recommended treatment you will be given a personalised treatment plan and individual success rate, your clinician will then answer any questions you might have.

Your Patient coordinator appointment
You will then spend some time with your assigned patient coordinator to discuss the treatment process, the costs, when to start and counselling will be offered. This is also your opportunity to resolve any outstanding questions you may have about treatment.
Advantages of our advanced ultrasound scan
Professor Campbell has pioneered the use of ultrasound to provide a detailed and accurate insight into fertility.
Our scan checks over 30 areas of your fertility, and you will always receive the results of the test on the day. These will be explained to you by your clinician who can answer any questions you might have.
Our 3D Doppler ultrasound scan is the foundation of our approach. Whilst we can identify different types of complex fertility issues using the our advanced ultrasound scan, we will also advise you on how we can help you to optimise your natural fertility.
Additional tests
The following tests can be used in addition to the advanced ultrasound scan
to help determine the most suitable treatment for you:
These tests can be done separately at CREATE Fertility or by your GP. We accept recent test results from other providers, just bring your results to your Initial Consultation and Scan.
How much does it cost?
Your first appointment with us only costs £385, for this you will receive:
A consultation with a highly-experienced IVF consultant
An advanced ultrasound scan
A tailored IVF treatment plan
A detailed breakdown of the treatment costings
Arrange any further tests if necessary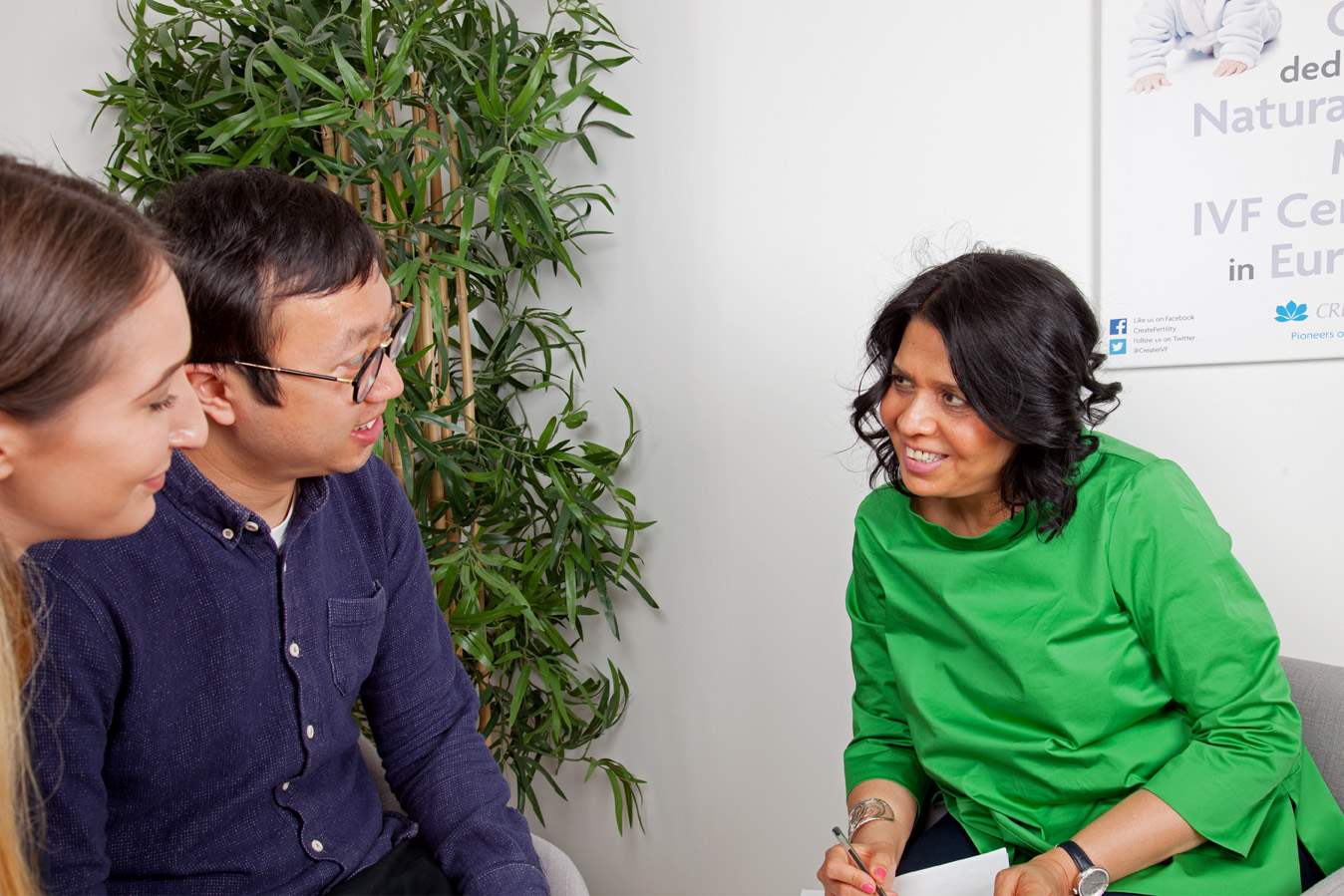 Frequently asked questions
Do I need to come at a certain point in my cycle?

No, you do not need to come at a particular point in your menstrual cycle. You can come in for your appointment when you are on your period as long as you are comfortable.

Should I bring anything with me?

If you or your partner (if applicable) have had any previous investigations such as blood tests and semen analyses in the last 12-24 months, please bring these along to your appointment. These tests may provide the team with useful additional information about your circumstances.

Do I need to bring my partner?

It is not obligatory. However, it is likely to assist our diagnosis and treatment if they are in attendance. This is especially the case if they need to have investigations themselves e.g. semen analysis. If they are not able to attend it may be necessary to arrange a subsequent visit for your partner.

When do I receive my test results?

When you come in for your IC you will receive your results of your scan on the day of your appointment.

If I have a coil, does this need to be removed?

If you are planning treatment and you have a coil, then you will need to have this removed prior to your treatment.

How long are my scan results valid for?

Your scan results are valid for 3 months. This is to ensure that the results and recommendations are up-to-date.

What do I do if I need donor sperm?

If you are having treatment with donor sperm from our clinic, we will help to match you to a suitable donor and help you to fill in the required consent forms. If you are using donor sperm from an outside source they will give you advice on how to transfer this over to the clinic.

What if I need an egg donor?

If you need egg donation treatment, your treatment process will progress differently to that of a non-egg donation patient. After your Initial Consultation and Scan your next step is to book an Egg Recipient Initial Consultation (ERIC) which will be with one of our specialist egg donation nurses. During this appointment you will be given donor matching forms and receive in-depth information about our egg donation services.

How can I access counselling if I decide to go ahead with treatment?

You can get contact details of an independent counsellor from your clinic team.
Want to know more about an Initial Consultation?
Get in touch with us to discuss any further questions or to book your appointment.
To request more information
0333 240 7300
Lines open 8am - 6pm Monday to Friday.
With one of our fertility experts