Your first appointment at CREATE Fertility
The first step to having any IVF treatment with us is to come for a consultation and ultrasound scan with one of our experienced IVF consultants.
We can then personalise an IVF treatment plan, designed to give you your best possible chance of having a baby.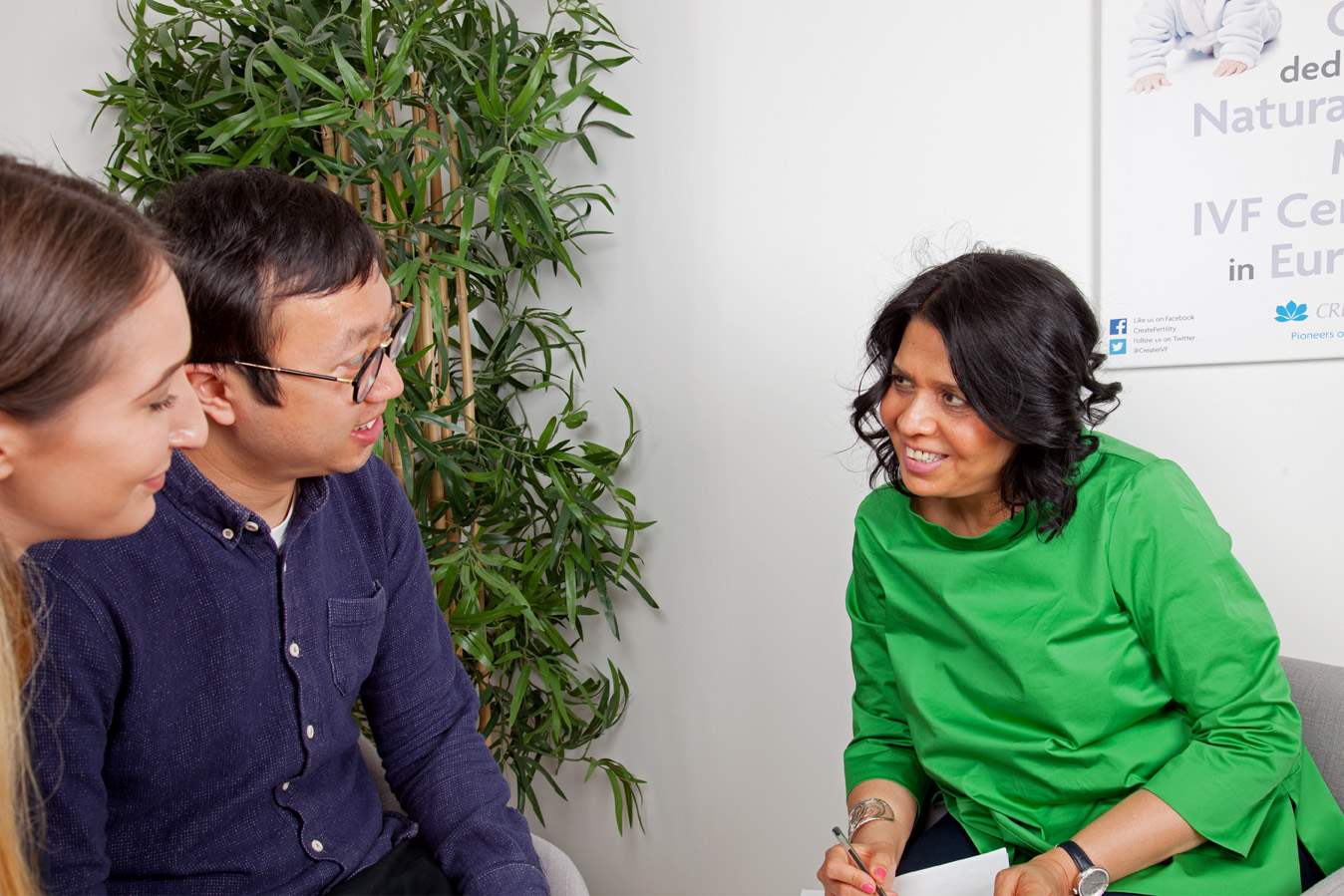 Why come to CREATE?
Personalised Natural and Mild IVF treatment
Advanced ultrasound scanning
All our diagnosis and treatments are always led by doctors
Consultant led care
Start treatment straight away
What happens at the consultation?

Initial appointment
Your Consultant will do some basic health checks and discuss your medical history with you

The doctor will then perform an advanced ultrasound scan looking at:
Your egg reserve - looking at the antral follicle count
The health of your uterus, endometrium (womb lining), ovaries and follicles - by examining the blood flow to each
The quality of your eggs - blood flow to the ovaries and follicles gives indirect information about the quality of eggs
Any polyps, fibroids - or other factors that could be affecting implantation or causing miscarriages

Results
Your Consultant will explain your scan results, answer any questions you might have and will take you through your tailored treatment plan.

Next steps
You can then spend some time with your patient coordinator to discuss the costs of your treatment, when to start and counselling will be offered.
How much does it cost?
Your first appointment with us only costs £385, for this you will receive:
A consultation with a highly-experienced IVF consultant
An advanced ultrasound scan
A tailored IVF treatment plan
A detailed breakdown of the treatment costings
Arrange any further tests if necessary

Speak to us
If you have any questions about our Initial Consultation then you can contact our experienced team who will be happy to help.
Call us
Additional tests
The following tests can be used in addition to the advanced ultrasound scan
to help determine the most suitable treatment for you:
These tests can be done separately at CREATE Fertility or by your GP. We accept recent test results from other providers, just bring your results to your Initial Consultation and Scan.
To request more information
0333 240 7300
Lines open 8am - 6pm Monday to Friday.
With one of our fertility experts