I had a baby with CREATE Fertility at 42
Just 3 days before my 43rd birthday I gave birth to my baby Katie May after undergoing Natural Modified IVF. I was given a 13% chance of success and now I look forward to every day with my little miracle girl, our dream has come true. I want to share my story so that other women can have that chance too.
A young mum and career focused entrepreneur throughout my 20s and 30s
At the age of 19 I fell pregnant naturally with my son and, although I loved being a mother, I was very young and I realised any form of contraception did not agree with me and I felt hat I had completed my family. I took the huge decision to be sterilised at the age of 26. Although it was a big decision at a young age, I focused on my career and throughout my 20s and 30s I set up a series of businesses in insolvency and insurance. They demanded a huge amount of my time along with the teams of staff. I worked incredibly long hours with no holidays and was often exhausted.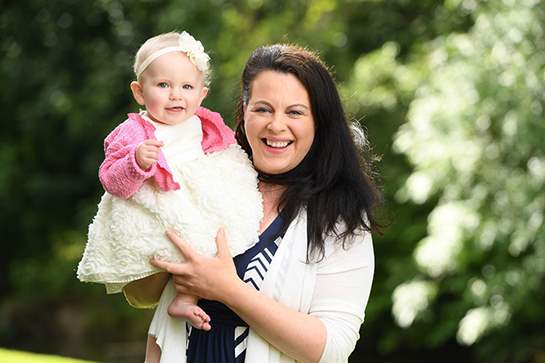 I didn't expect to find love again at 37 and want another child
After a lengthy marriage, my husband and I separated. At 37, I suddenly found myself back together and blissfully happy with my childhood sweetheart. As he had never had children, we started to talk about how much he'd always wanted to be a father and we began to discuss how wonderful it would be if we could have a baby of our own. So, in December 2015, I took another huge decision, and had my sterilisation reversed. By February 2016, I was pregnant and we were ecstatic.
Miscarriage, Surgery & the 'Clock Ticking'
Sadly, our joy was short lived and my pregnancy ended in miscarriage. The losses continued and I had a further four miscarriages that year. I had many tests done privately to try and discover what was going wrong. I was told it was my age and that my hormone levels were low, but that if we kept tying I would eventually have a baby. By this point, time was ticking on and I was becoming increasingly depressed until I nearly had a complete breakdown. I was struggling to cope with the constant grief.
Yet another crossroad at 40
After more medical advice (not with CREATE) I reached a crossroad: at 40, it was finally established that my fallopian tubes were blocked and it was now either my last chance to undergo further surgery,or, to have IVF. After much deliberation and taking advice from private fertility consultants, I went through surgery and was told that only my right tube was still working healthily. Two months later I was pregnant again with baby number six, but devastatingly another loss followed.
I felt written off at the age of 42
Unfortunately, my GP wasn't very sympathetic or helpful. I had paid to have a private AMH test and took the result in to show her. Everything was too low, my FSH was quite high, my AMH levels were extremely low (measured at 2.7pmol/l) and my GP told me I was coming to the end of my fertile life.
My partner said it was time to move on and stop trying
By February 2017, I was an emotional mess and we had spent a small fortune on private tests, diagnostics and surgery. My partner said that enough was enough and it was time to move on. Accept it wasn't going to happen for us. I was mentally suffering, and we didn't feel adoption was an option as I knew the process was gruelling and didn't feel I was strong enough after six miscarriages.
I discovered Natural and Mild IVF at CREATE Fertility
I really didn't like the idea of trying conventional IVF because of all the drugs that you have to put into your body. I was always reading about babies, fertility and conception and found out about a new Natural and Mild IVF clinic that had opened near me in Manchester. The idea really appealed to me because it works with your body and reduces side effects and long-term risks. So, in June 2017 I arranged a consultation. I didn't actually tell my partner because he thought we had agreed to stop trying. All the staff were so lovely and patient with me. The doctors and nurses explained everything clearly and I was given leaflets to help me understand every step of the process.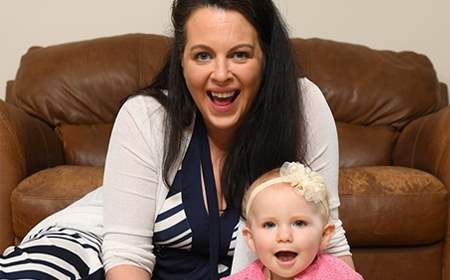 My very last chance
The doctor told me my chances were 13% over 3 cycles, which was low and I knew it. I said I would try one cycle to see how I found it. I knew it was my very very last chance. I was 42. I then had to persuade my partner this was the right thing for us to do. He had wanted to let it go, after all the heartbreak. As always, he supported me in my decision. After all, it was my body and I wanted to try.
Just one month later I was pregnant!
In July 2017, after one cycle or Natural Modified IVF, I was pregnant! The doctors were brilliant. I just wish so much I had tried Natural IVF before anything else. I felt no side effects from the treatment. I just thought, why can't other women have that chance too? I had my daughter Katie May, weighing a very healthy 8.12lb. I felt so lucky.
On tenterhooks for the whole nine months
All my previous miscarriages were before 12 weeks, but I was on tenterhooks for the whole pregnancy. Once I got to the four-month scan, I felt a little more confident, but the first half was very worrying. I decided not to have any counselling during my treatment at CREATE but I knew it was always on offer. If the treatment hadn't been successful, I would have definitely taken up the counselling.
Supporting other women on their fertility journey
I wanted to share my story because I know it can be so scary and isolating when you desperately want to have a baby. The only people who can understand are the people who have been through it themselves, it's such a horrible, lonely dark place to be, neither family nor friends or even your partner can truly understand. Friends can become distant too as they don't know what to say. During my depression and my earlier treatment (prior to CREATE) I found it hard to eat and look after myself, to just take a breath and relax. I did have acupuncture, and my therapist was also an angel, she really helped me release worry. I was always looking for success stories that I could relate to and I just wanted hope, which is what I hope this can offer other women.
Life with baby Katie May
I get up every morning with a smile on my face. Children are a miracle. I gave up my business and sold up to focus on my family. My career suddenly wasn't important any more, I have no regrets and look forward to restarting my career when Katie May starts school. The unusual situation with my story is that I've been a young parent and an older parent. So when I had my son, I went back to work when he was 11 weeks old which was incredibly stressful. As an older mum, I have been extremely fortunate to be able to take a career break to be with my daughter, I'm not as tired as I'm not rushing about and I definitely have more patience.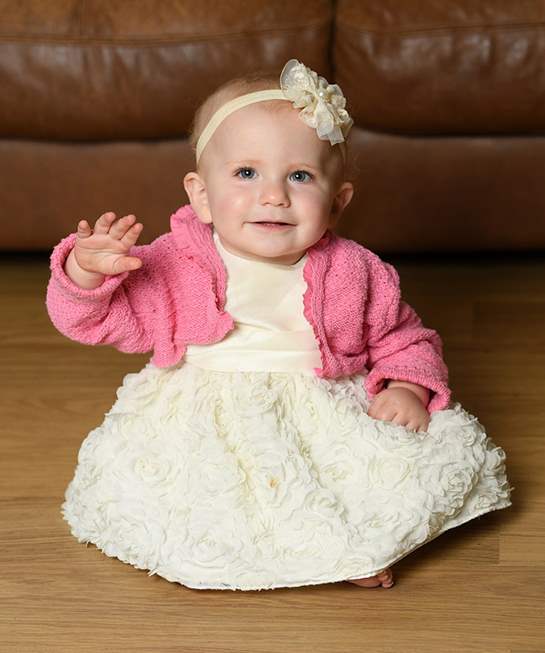 I'm so glad CREATE gave me a chance to be a mother again and I will be forever appreciative of the work they do.