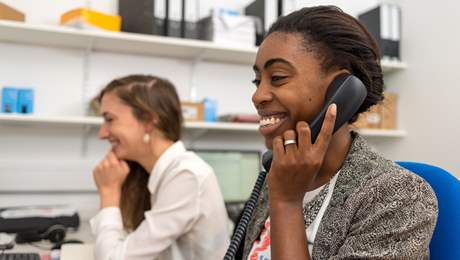 COVID-19 update
We can reassure patients that we are following the guidelines issued by the Government & Public Health England.
Letter from Professor Geeta Nargund (23/03/2020)
Dear all,
This current situation with regards to COVID-19 has been an unsettling time and we wanted to support you and give clarity on our plans over the coming weeks. All CREATE patients who are currently in treatment can complete their cycles. However, it is with deep sadness that we will have to temporarily postpone treatments until further notice. For full information, please scroll down to read the more detailed instructions. We expect that this period may last for a number of weeks, but will update our patients as soon as we have updated guidance from the government.
As a nation, we are in unprecedented times and we all need to look after each other. I know that this is very distressing news for many of our patients who have low egg reserve and have been waiting to start their natural cycle or mild IVF treatments. We are here to support you during this difficult time. We will re-start new treatments as soon as possible. We will be offering Video and Telephone consultations to all new and existing patients.
At CREATE, we have always shown a commitment to protect the health & safety of women and babies and not to burden our NHS with policies to reduce complications such as Ovarian Hyperstimulation Syndrome (OHSS) and multiple pregnancy. We will continue with our safe and successful approach in all future treatments.
During this national emergency, we are here to support you with your fertility journey. I will be doing weekly webinars and we will be available to answer your questions.
Stay safe and together we will be successful in fighting COVID-19.
We stand in solidarity with the whole country and the NHS.
Yours,
Professor Geeta Nargund
Full information for Patients and Treatment
CREATE patients in treatment
All ongoing fresh IVF/ICSI cycles will be completed. Patients will be encouraged to freeze their embryos, but can choose to have a fresh transfer if that is the patient preference.
Those in treatment with FET, Egg Recipient and IUI cycles will need to postpone their treatment, but can complete if that is the patient preference.
We have already waived the fees for those patients needing to freeze and store due to COVID-19 for 6 months (see below for more details).
Patients undergoing Treatment Consultations for anything other than fresh IVF/ICSI cycles can have their appointment over the phone, or, if they wish to have their appointment in person we will postpone their appointment until the reopening.
Looking to become a new patient of CREATE?
All new initial consultations will be video/telephone consultations.
We will be able to prepare a plan for you so that you are ready to start as soon as the clinics re-open.
Information about Pregnancy and COVID-19
The current COVID-19 crisis can be an unsettling time for many of you. To avoid any needless worry and stress, we wanted to update you on the evidence-based scientific facts regarding fertility treatment and COVID-19 virus and to reassure you that we are following the latest advice from the government, our regulator (HFEA) and the Royal College of Obstetricians and Gynaecologists (RCOG). The RCOG guidance on COVID-19 infection in pregnant women, which can be accessed here.
The current guidance from UK professional bodies is that pregnant women do not appear to be any more susceptible to the consequences of COVID-19 than the general population, or that women can pass the infection onto their baby while pregnant. The UK's Chief Medical Officer, Professor Chris Whitty has said there is currently no evidence to suggest the existence of any coronavirus-related complications in pregnancy.
We pride ourselves in using individualised and safer drug protocols that are aimed at reducing OHSS and related complications for women in order to protect the health and safety of the mother and baby.
Please see below further details of the assistance we can provide.
Assisting patients affected by COVID-19
We know that many patients wish to minimise the impact of COVID-19 on their treatment plan. To help patients in this situation, we have implemented the following changes:
If you need to delay your fresh embryo transfer, we will now offer free freezing and storage of eggs and embryos (up to 6 months duration) and a free Frozen Embryo Transfer cycle including the medication to prepare your womb for transfer (valid for 6 months).
Patients in three cycle packages, we will give a 6 month extension to use their package at no extra charge.
Abandoned Cycle Fees will be not be charged for those patients that need to self-isolate or display symptoms.
For those patients unable to complete a fresh embryo transfer due to advice to self-isolate or contraction of COVID-19, we will give free freezing and storage of embryos or eggs (6 months duration) and a free Frozen Embryo Transfer including medication as above (valid for 6 months)
On a case-by-case basis, we will review a patient's circumstances to ensure that they can commence treatment after their recovery/the end of their self-isolation period.
We are already offering more telephone appointments for those who do not need physical examinations or diagnostic tests.
Protecting the health and safety of our patients and any future babies remains of paramount concern and we want to assure you that we will do all that we can to assist and support you and your families during this difficult time.
Government advice
To access the full government advice, please visit here.
The public are being advised to stay at home (self-isolate) without any testing for COVID-19, regardless of travel history or contact with confirmed cases, if they have:
a. A new continuous cough OR
b. High temperature (of 37.8 degrees centigrade or higher)
if you live alone and you have symptoms of coronavirus illness (COVID-19), however mild, stay at home for 7 days from when your symptoms started. (See ending isolation section below for more information)
if you live with others and you or one of them have symptoms of coronavirus, then all household members must stay at home and not leave the house for 14 days. The 14-day period starts from the day when the first person in the house became ill
it is likely that people living within a household will infect each other or be infected already. Staying at home for 14 days will greatly reduce the overall amount of infection the household could pass on to others in the community
for anyone in the household who starts displaying symptoms, they need to stay at home for 7 days from when the symptoms appeared, regardless of what day they are on in the original 14 day isolation period. (See ending isolation section below for more information
if you can, move any vulnerable individuals (such as the elderly and those with underlying health conditions) out of your home, to stay with friends or family for the duration of the home isolation period
if you cannot move vulnerable people out of your home, stay away from them as much as possible
if you have coronavirus symptoms:
• do not go to a GP surgery, pharmacy or hospital
• you do not need to contact 111 to tell them you're staying at home
• testing for coronavirus is not needed if you're staying at home
• plan ahead and ask others for help to ensure that you can successfully stay at home and consider what can be done for vulnerable people in the household
• ask your employer, friends and family to help you to get the things you need to stay at home
• wash your hands regularly for 20 seconds, each time using soap and water, or use hand sanitiser
if you feel you cannot cope with your symptoms at home, or your condition gets worse, or your symptoms do not get better after 7 days, then use the NHS 111 online coronavirus service. If you do not have internet access, call NHS 111. For a medical emergency dial 999
What does self-isolating mean?
If you have been told to self-isolate, you will need to get to the place you are going to stay using your normal mode of transport, once there remain indoors and avoid contact with other people. This will prevent you from spreading the disease to your family, friends and the wider community. In practical terms, this means that once you reach your residence you must:
stay at home
not go to work, school or public areas
not use public transport like buses, trains, tubes or taxis
avoid visitors to your home
ask friends, family members or delivery services to carry out errands for you - such as getting groceries, medications or other shopping
In addition to the self-isolation guidelines, the advice for anyone in any setting is to follow these main guidelines:
1. Wash your hands more often than usual, for 20 seconds using soap and hot water, particularly after coughing, sneezing and blowing your nose, or after being in public areas where other people are doing so. Use hand sanitiser if that's all you have access to.
2. To reduce the spread of germs when you cough or sneeze, cover your mouth and nose with a tissue, or your sleeve (not your hands) if you don't have a tissue, and throw the tissue away immediately. Then wash your hands or use a hand sanitising gel.
3. Clean and disinfect regularly touched objects and surfaces using your regular cleaning products to reduce the risk of passing the infection on to other people.
At the current time and based on our understanding of what is known of COVID-19 and other similar respiratory viruses, it is likely that older people and those with chronic medical conditions may be vulnerable to severe disease. As more information emerges, recommendations may change.
Further information can be accessed on the NHS advice website.