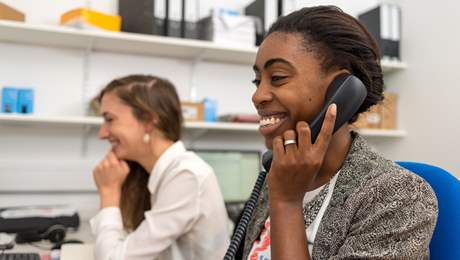 Contact us
If you have any questions or would like to find out more about your options at CREATE Fertility, please get in touch
Speak to a patient
adviser
We have experienced advisers available to provide confidential, impartial advice. Speak to us today.

0333 240 7300
Weekdays     8am - 6pm
Saturday      10am - 4pm
Are you an existing
patient?
If you are an existing patient the quickest way to contact is to call us or alternatively use the email below.

Email support team
If you need more information, leave us a message and we'll get back to you the next working day.
Out of hours emergency numbers
These numbers are only for CREATE Fertility patients who need to report a clinical
emergency when clinics are closed.
St Paul's, Oxford & Wimbledon
07769 119 537
In the unlikely event that you are unable to get through, please contact your GP or local
A&E department.
Media queries
For all media enquiries relating to CREATE Fertility,
Professor Geeta Nargund or our team of fertility
experts please contact Beth and Alex at:
media@createfertility.co.uk
We take data very seriously and we want you to be clear how we store, manage and utilise your data throughout your journey with us.
You can find out more about how we will process and protect your data by reading our
Privacy Policy.