Being a mother is incredible; there are no words to describe the joy he brings to us
We had always wanted children. Being a same sex couple meant that there were a few different routes we could have gone down to start a family. We did lots of research and eventually decided to start with IUI treatment.
We had been looking around for a couple of years, trying to find the right place to have treatment, but then Covid hit and all the clinics shut.
We then saw that CREATE were doing free online open evenings and decided to book on. We are so glad that we did because we got so much information from that session. After some more thinking and research we decided that CREATE was the clinic for us and as soon as the clinic opened, post lockdown, we gave them a call and booked our IUI treatment.
On the day of the insemination Stacey, my partner, was actually allowed to come in with me. Up to that point she hadn't been able to come to appointments with me and we were both so incredibly happy and grateful to be able to do this together. If successful, it would be her baby too and it was really important to us that we shared that moment.
The two week wait was difficult, but I was still working so that kept me busy and my mind distracted. We were constantly looking for any signs that I might be pregnant. After 10 days we just couldn't wait any longer and bought 5 home pregnancy tests - they all came back positive!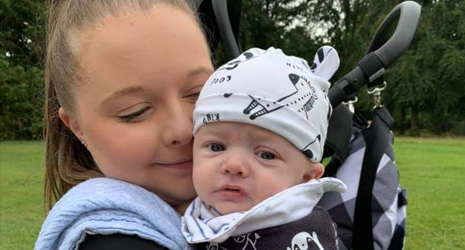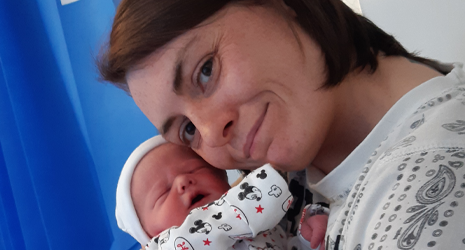 We rang the clinic to let them know we've had a positive pregnancy test and they were so happy for us. They then booked us in for our early pregnancy scan and we remember just thinking 'It all happened so fast!' but couldn't be happier with the result. We would recommend CREATE to anyone who is looking for IUI treatment; they made sure our journey was as smooth as possible and obviously we got the result we had wished for.
My pregnancy didn't go as smoothly as the treatment did. I had a few complications but everything was okay in the end and I gave birth to a healthy little boy at 37 weeks.
Being a mother is incredible; there are no words to describe the joy he brings to us. He's also got such an amazing bond with Stacey. We love life with him and try to enjoy every second. We do lots together; he'll soon be starting swimming lessons which we're all very excited about!
My only bit of advice to anyone who might be at the start of their journey would to be, be prepared to take as much time as you need. This is an important journey and it's important that you give yourself time and reduce stress as much as possible. Take the bumps as they come but try to keep positive throughout.