Natural & Mild IVF Clinics
CREATE Fertility is one of the largest private IVF clinic groups in the UK. We offer expert Natural and Mild IVF treatment to women across the UK and around the world.
Pioneers of Natural and Mild IVF
Excellent success rates in all age groups
Personalised treatments
Highly experienced team
No waiting lists
No selection criteria

Speak to our IVF specialists
If you have a question about CREATE Fertility or our clinics then you can speak to our specialists who will be happy to help.
Speak to us
CREATE Fertility Clinic Locations
CREATE Fertility

150 Cheapside

London

EC2V 6ET

CREATE Fertility Manchester

Part Ground Floor, Kings Court

Wilmslow

SK9 5AR

CREATE Fertility Bristol

1 Trinity Street, College Green

Bristol

BS1 5TE

CREATE Fertility Oxford

5 The Quadrangle

Woodstock

OX20 1LH

CREATE Fertility

St Georges House, 3-5 Pepys Road

Wimbledon

SW20 8NJ

CREATE Fertility

6270 Bishops Court, Solihull Parkway

Birmingham Business Park

B37 7YB

CREATE Fertility Hertfordshire

Colney Medical Centre, 45-47 Kings Road

St Albans

AL2 1ES
Specialising in Natural and Mild IVF treatment, all of our clinics offer you the best expertise and experience in fertility treatment. Our ethos is to offer a unique service, which is focused on a more natural approach, creating high quality embryos, ensuring safety of mother and baby, and avoiding unnecessary medication and procedures.
Led by Professor Geeta Nargund, all of our fertility doctors, nurses and embryologists are trained in natural and mild IVF by our medical and scientific leaders. This ensures that we will always offer you fertility treatments of the highest standard, personalising treatment to maximise your chance of success.
Mild Stimulation IVF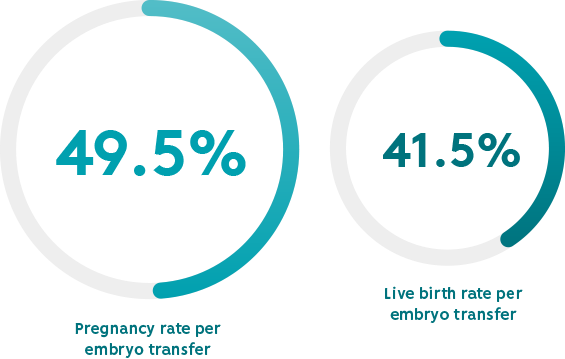 Clinical pregnancy and Live birth rates per embryo transfer (ET) <35
3 years of data: 2013-2015
To request more information
0333 240 7300
Lines open 8am - 6pm Monday to Friday.
With one of our fertility experts