Pioneers of Natural and Mild IVF

CREATE was also the first fertility clinic to make a commitment to Natural and Mild IVF in the world. Today, IVF success rates with Mild IVF at CREATE are excellent and with Natural Cycle IVF, we give options to those who would be turned away elsewhere.
Our fertility treatments offer women the chance to have a baby using their own eggs, without the need for long and intense courses of stimulating drugs. Natural and Mild IVF work within a woman's natural cycle and focus on the quality of eggs and embryos, not the quantity.
Excellent Success Rates

We are very proud of our success at CREATE, and have managed to achieve consistently strong success rates over the years. We have attained these levels of success while adhering to our policy of giving only minimal amounts of drugs, if at all, demonstrating that our commitment to reducing the quantity of fertility drugs does not have a negative impact on the chances of success.
Mild Stimulation IVF

Clinical pregnancy and Live birth rates per embryo transfer (ET) <35
3 years of data: 2013-2015
Quality over quantity

At CREATE Fertility, we advocate Natural and Mild IVF because they focus on the quality of eggs/embryos, not the quantity. There is considerable scientific evidence to show that embryos created from IVF cycles with lower stimulation are of higher quality than those produced in conventional, high stimulation IVF.
In the study by Baart et al. embryos were created from Conventional and Mild IVF cycles. So on first glance, in terms of number of embryos, it appears that Conventional IVF is the better option. However, when the embryos are examined in more details for chromosomal problems (aneuploidy), a significantly higher percentage in a conventional, high stimulation IVF cycle are found to be chromosomally abnormal.
All of the additional drugs, stress and costs were unnecessary; the same result could be achieved with Mild IVF.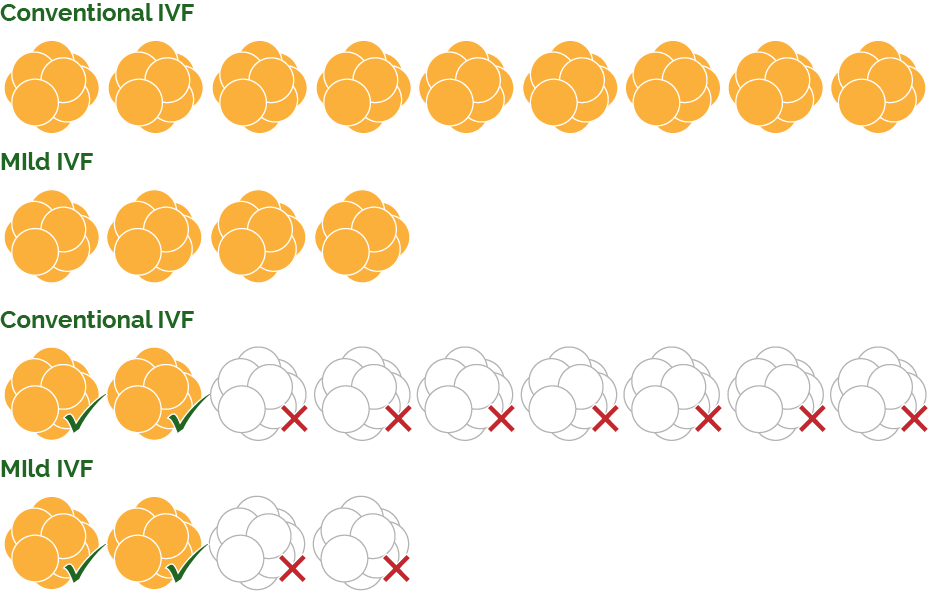 No selection criteria

Many clinics have selection criteria for the patients that they will accept, often based upon AMH or FSH blood test results. At CREATE it is our ethos to give every woman a chance if we can. If a woman wants to be treated using her own eggs and is under 50, we will endeavour to help her be successful in this is possible. We therefore have no cut-offs or selection criteria based on FSH, AMH etc We are invested in equality for all patients and believe that giving everybody a chance to become a parent is more important than just success rates. We have helped many women successfully conceive with critically low ovarian reserve. Indeed, we have had the two oldest patients in the world to deliver a baby using IVF with her own eggs, both at the age of 48.
No waiting list

One of the major benefits of coming to CREATE Fertility for treatment is that there are no waiting lists. With treatment on the NHS involving long waiting lists, private treatment is often a more suitable option for those for whom time is running out. Typically patients on the NHS have to wait around 2 years after being approved for funding. At our clinic you do not have to wait at all, we will simply work within your natural cycle.
Consultant led care

Our consultants are at the heart of everything we do. We take pride in recruiting some of the top fertility experts. Our practice is based on scientific expertise and led by Professors Nargund, Campbell, Chian and Frydman, who have pioneered many new innovations in fertility and IVF. These medical leaders train our team of doctors, who are highly experienced. Your treatment will be led throughout by our doctors, which differs from other clinics, where care is often led by the nursing team.
To request more information
0333 240 7300
Lines open 8am - 5pm Monday to Friday.
From one of our fertility experts