The way I was treated by the doctors and nurses at CREATE was just incredible
When I found out I had blocked fallopian tubes, I was referred for a cycle of IVF on the NHS. We decided to go ahead with that cycle, but we found their high stimulation approach made me quite ill. They just blasted me with as many drugs as they could get into me and because of this I ended up with OHSS (Ovarian Hyperstimulation Syndrome).
Although I was quite ill, they proceeded with the cycle. It turned out that my eggs were ready to be collected on a Sunday, however because the hospital was not opened on Sundays, I lost most of my lead eggs. After more than a month of the intensive drug regiment, they couldn't even collect my eggs on the right day.
The cycle sadly then resulted in an early miscarriage. I felt like the whole process was not about what was best for me and that it wasn't going to help me have a baby.
I was having acupuncture at the time and my acupuncturist suggested we think about a different clinic as we now had to go private. She also mentioned Mild IVF to us and we were really interested in it. After a bad experience where the excessive drugs made me unwell and the pregnancy ended in a miscarriage, I was really open to something more gentle. It never felt like I needed to be on so many drugs, it felt completely unnecessary.
My acupuncturist recommended CREATE Fertility and we went along to an open day at their London clinic. Instantly we realised that Mild IVF was a much better path for us. We felt much more comfortable with the whole idea of really letting my body do as much as it can. So we decided to go ahead with a cycle at CREATE.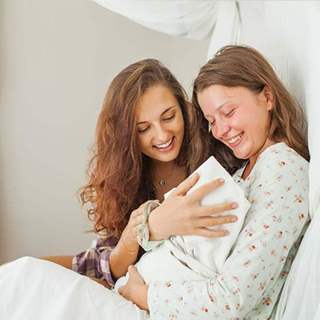 Unfortunately, this cycle didn't end in a live birth as I had another miscarriage. However, the way I was treated by the doctors and nurses at CREATE was just incredible. It felt like they really cared; I remember the nurse who was with us, when we found out we'd lost the baby, had a tear in her eye. It was really touching how empathetic, kind and lovely everybody was. This was a completely different experience to our first miscarriage and it meant a lot at the time. They really helped us.
We then decided to go ahead with another cycle of Mild IVF. The protocol was similar to the first cycle with CREATE and it went really smoothly. I has some bleeding at the beginning of my pregnancy and found out I had a subtonic hematoma and again the team at CREATE were incredibly supportive. It was really amazing that they went above and beyond for us. They were so invested in us having a healthy baby; it was far more than what I'd expect from a medical team.
Our little daughter was born in June last year and she is absolutely lovely. She is a really happy baby and it's been great. We are so pleased!
I think if we'd continued at a clinic which offers high stimulation protocols, it wouldn't have worked for us. It would not have been as relaxed and as easy as it was at CREATE. They were just incredible and we couldn't ask for anything more.
I know a couple of people who have already gone to CREATE after my experience. One of my friends fell naturally pregnant the week before she was due to start her treatment and everyone at CREATE was really happy for her. We would 100% recommend it.