Remember, you only need one egg!
I was approaching my late 30s and I wasn't in a relationship when I contacted a fertility clinic to have my eggs frozen. Unfortunately, I was to learn that my fertility was in fact very low, too low for that kind of treatment. The doctors advised me to not waste any time if I wanted a child and that I should really think about "trying" straight away. It was a scary position to find myself in - all of a sudden, I was in a situation where I had to make a life changing decision; have a baby by myself now, or I may never have children.
From that point, I started researching into different clinics that specialised in treating women with low AMH, and that's when I came across CREATE. I saw that CREATE treated older women, and that they used a more natural approach with fewer fertility drugs. I read up on the 'quality over quantity' approach and it gave me hope. When I went in for the Initial Consultation and Scan, I discussed my low AMH (2.1) with the Consultant and asked what this meant for my chances of success. He reassured me that although my chances were low, 'we only need one egg'.
I started on the Mild IVF protocol, but I wasn't responding well to the medication, so the team changed my protocol to the Natural Modified Cycle to ensure that we were working in line with my body. Sadly, my first cycle ended in an abandoned cycle because my follicles weren't responding to treatment. I then went on to a second cycle and was over the moon when I received a positive pregnancy result. However, I miscarried just a few days later… this was tough and my emotions were all over the place. I felt I needed to give my body and mind time to heal, so I took a break and waited until I was mentally strong enough to try again.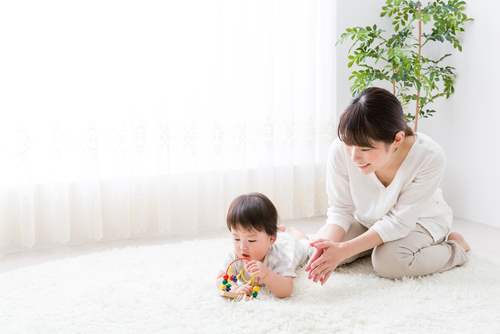 After a year's break, I went back to CREATE and my next attempt resulted in another abandoned cycle. It was at this point that I nearly gave up as I started to believe it was never going to happen. How many times can I put myself through this? I spoke to a friend and she said "I know it's hard, but you'll always look back and think what if… Give it one more try". I was 40 years old when I entered my fourth cycle and it was then that I fell pregnant after retrieving just one viable egg. I couldn't believe it! I wasn't through the woods yet though and I was convinced that something would go wrong during those first precious months, waiting to hit the three month mark felt like an eternity. I can't tell you how amazing the feeling was once I was able to announce my pregnancy to everyone! I was living the dream that I didn't think would ever come true for me.
Everyone at CREATE St Paul's was so nice! When I came in for my appointments the girls on reception always remembered me and they were excited to hear of my progress. The nurses were supportive and the consultants I saw remained positive throughout my journey. I felt reassured and in good hands each visit. I think it's great that CREATE are opening more clinics across the country including Oxford. It can be difficult commuting back and forth to London to go to a good clinic if you're living on the outskirts or even further afield. I think the more CREATE clinics that are dotted around the country, the better!
It sounds cliché, but I can't imagine my life without little Lois now, I am so proud of her and what I have achieved. I genuinely didn't think I would ever be a mummy and I would forever be asked the heart-breaking question "why don't you have children?" And then have to run off into a corner for a little cry... but CREATE changed that for me. Hands down, the process was one of the hardest things I've ever done, but it has certainly been the most rewarding. I want to thank all the staff, nurses and doctors who helped create (no pun intended!) my perfect little miracle and I hope my story inspires other women with low fertility to believe it can happen. Remember, you only need one egg.