You really do 'only need one egg'!
Our experience with CREATE Fertility started after a year of trying to conceive our second baby. We already had a three-year-old daughter and were desperate to give her a sibling and complete our little family.
Having severe endometriosis, I had already undergone a laparoscopy to help increase my chances of conceiving (this had worked with our daughter) but it was clear that it would not be so straight forward the second time around. Having to endure the awful pain caused by my endometriosis every month along with the disappointment of not conceiving was getting too much and we made the decision that IVF was our best option.
I had researched many different clinics and was immediately drawn to CREATE. Their philosophy of a more natural approach with a focus of "quality not quantity" very much appealed to me. Having a young daughter to look after I did not want to be hugely affected by the drugs, which I had heard could have major side effects, and felt that as I had fallen pregnant before, perhaps only a minor intervention would be necessary.
From the first consultation I was made to feel at ease with the process of mild IVF and knew I was in the best hands. My consultant told me something that stayed with me the whole journey which was "you only need one egg". He explained that one carefully treated and nurtured egg is better than 20 eggs that have been highly stimulated with harsh drugs. I liked him and his reassurance very much.
The IVF treatment process with CREATE was absolutely faultless. The treatment plan and appointments were quickly and efficiently arranged, and I was able to begin as soon as I wanted. Also, the injections and medication were so well explained by the nurse at the treatment consultation appointment, I felt confident about my ability to do them myself. 
My husband and I had decided we would only give this one go so my focus on "you only need one egg" was crucial. After the egg collection procedure, when we were informed that I have had 2 eggs collected, we were quite worried; 2 eggs did not seem much to bank on. The odds seemed even more against us when only one of those eggs had fertilised using ICSI. The team at CREATE did reassure me that our embryo was high quality so we went ahead and I had our embryo transferred into my womb.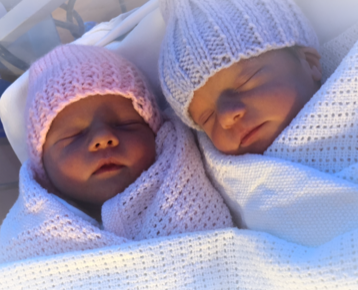 Fast forward to a couple of weeks later and it was time to receive the result of my pregnancy test. The blood test showed a resounding positive pregnancy result! We were so excited and couldn't wait to have the 7-week scan. When we attended the scan appointment, we were given some astonishing news. The ultrasound sonographer identified two heartbeats! The embryo had split, and we were expecting identical twins.
I have goosebumps every time I think about that scan appointment and how we could not have been luckier. That one egg, which was our only chance, would bring us two more children to love and two siblings for our daughter. 
On the 2nd September 2019, we welcomed Mollie and Mabel to the world.
We would like to thank CREATE for the most wonderful experience and most incredible outcome. We would highly recommend them to anyone and hope that our success story will give hope to those considering this journey. My story demonstrates you really do "only need one egg"!