Many patients with low AMH results are turned away from clinics or steered towards treatment with donor eggs. However it is possible to use your own eggs and still get pregnant with low AMH results, as Sarah can attest:
"I came to CREATE after having negative experiences of treatment with the NHS, where I paid for a round of treatment, having not been accepted for funding. I found the experience incredibly impersonal; I once got called in to my appointment with a vibrating gadget rather than being called by name.
The cycle with the NHS failed, and I turned to natural medicine specialist Dr Trevor Wing, who recommended that I try CREATE. I attended an open day with my partner Matthew and immediately realised that the approach was different to anything I had experienced previously. It was clear that treatment at CREATE was very personalised and that each patient was treated as an individual rather than a number. I also liked the fact that I wasn't going to be pushed into IVF if it was not right for me: Professor Nargund spoke of a patient who was advised to take ibuprofen and try naturally and who got pregnant.  I knew then and there that I wanted to go ahead with the treatment, so I booked in for a consultation.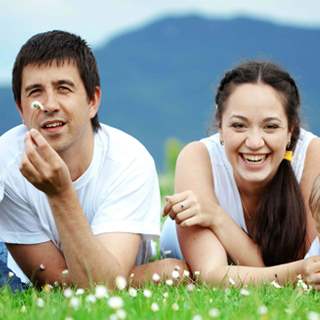 At our meeting with the doctor I was told that although I was only 36 my ovarian reserve was low, and I later discovered that my AMH levels were 0.57 which is classified as 'very low/undetectable'. I was therefore told that Natural Modified IVF would be the best treatment for me, as it encourages the healthy growth of a few high quality follicles. While I was sitting in the waiting room waiting for my treatment to start I read an article about another patient who had been successful with a similar AMH to my own. This gave me hope and inspired me to continue.    
I started my treatment in March 2013 and had 2 eggs collected. Unfortunately neither of them implanted and my pregnancy test was negative. Feeling disheartened, I returned for a follow-up appointment. The doctor suggested that before coming for another round, I should have a polyp removed.
After I had the polyp removed,  I returned to the clinic for another round of treatment. Again 2 eggs were collected and 2 embryos were returned to my womb. Having gone through 2 unsuccessful cycles I wasn't expecting the treatment to work, and was amazed and delighted to have a positive pregnancy result a few weeks later. Coming in for an early pregnancy scan, I was in for another surprise: I was expecting twins!
My beautiful daughters Jasmine and Ava were born on the 8th January 2014. I am still getting used to the sleepless nights, but can't imagine life without them. My IVF was totally worthwhile and I can't recommend CREATE enough".