My overall experience with CREATE was excellent
In many ways I wish that I had started the process of IVF treatment years earlier, but I also believe that you have to start when the time is right for you. My belief is that most people who want a child can have one; you just have to be open minded about how you have that child, because whichever way you have your child or children, you will love them.
I had always wanted children and assumed that by the age of 28 I would have been married with kids. At 30 I decided that if I was still single by 39 I would start the process of having a child alone. Suddenly 39 came and went and I was planning my 40th birthday party alone; I knew it was time to start fertility treatment. It took me a further few months to get around to booking the appointment but by July 2013 my journey began. My sister, Sharon Pitt, works at Marilyn Glenville nutritional clinic and deals a lot with infertility and miscarriage, so she recommended CREATE because of the approach Professor Nargund takes with her patients, which is as natural as possible.
Although I had frozen my eggs at 37 at a different clinic, I didn't consider any other clinic for fertility treatment because when I met the team I warmed to them. I remember having a cry on the shoulder of Debi, the nurse at the Wimbledon clinic, about not meeting the right man, and had many more cries of sadness and happiness on her throughout my two year treatment journey.
All of my tests showed that for 40 my fertility levels were okay but I later learned that this still wouldn't mean that I could conceive with my own eggs. I had one cycle of IUI, two rounds of IVF, with the second cycle resulting in a chemical pregnancy, and because my usual doctor was unable to perform the transfer Professor Nargund did it for me and Debi held my hand. I then had another two rounds of IVF; the second cycle was successful but I had a miscarriage at eight weeks pregnant. I then used my remaining two blastocysts, which also failed, thawed all of my eggs that I had frozen when I was 37, with none of them resulting in a pregnancy, so I decided to do double donation, which is sperm and egg donation, through a programme CREATE offered in conjunction with an IVI clinic in Madrid. I always felt that my own eggs would work at some point but, financially and emotionally, I knew it was time to have treatment with double donation.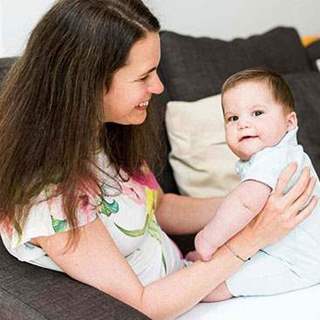 Due to Spanish laws, double donation treatment is completely anonymous at the IVI clinic in Madrid so this means you don't find out any information about your donor; you just fill in your details and they match you. Your child will also never find out who their donor was, not even at the age of 18, although, in the UK, even knowing your donor at 18 is not a guarantee of finding them, which is why I decided that anonymous donation was the route I wanted to take. The IVI clinic in Madrid, as in the UK, does full health checks on their donors but you do have to put your faith in them. The process was slightly more daunting for me because I'd already gone through regular IVF and I had got to know the process well, but the double donation process was very different from IVF. I like to feel in control and during my IVF treatment I even bossed the doctor about with regards to when I wanted my egg collection and other treatments; he was a very patient man!
As the double donation process was very different I found it hard, until I explained to the new nurse dealing with this programme that I am someone who needed to know everything in advance. The process was so quick once I decided to go ahead. I happened to be at the right point in my cycle to start the drugs, so the process started within the next few days and the IVI clinic already had a match of frozen eggs for me. It all ran very smoothly for me. The IVI clinic did things slightly differently than what I was used to, for example, they don't call each day to tell you how the embryos are doing but they do guarantee their patients a minimum of 10 frozen eggs. I received 11 frozen eggs, they all thawed and fertilised and 10 lived until day 3. They implanted 2 of those day 3 embryos because I insisted I wanted two put back due to my age. The IVI clinic suggested freezing the remaining embryos, but I insisted that they waited until they turned into blastocysts, so only 2 remained and are now frozen.
Out of the two embryos I had implanted, I have my beautiful boy, Joshua Harry Jacques Moss born on the 27th December 2015. My overall experience with CREATE was excellent; I personally preferred the Wimbledon clinic because it's smaller and I felt everyone knew me, although the egg donation programme is run from the St Pauls clinic.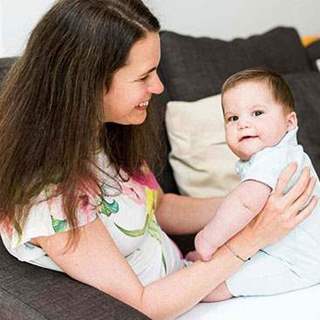 It is important to ensure upfront that the medical staff know how you like to be informed about things. For me, I needed to have a bond with all those involved in my treatment and I experienced that with CREATE; I understood in advance each stage of my treatment and I was aware of all my options. I love my life as a mum, although it can be tough, I was lucky enough to live with my parents for the first few months. There are also plus sides to having fertility treatment alone; I like that I never have anyone telling me how I should be raising my child. I don't know one woman who has done this journey alone and regrets it, yet I do know single women who regret that they have never had a child. Also, the love I get from my child is indescribable and wonderful.