For me, it's just amazing to see our son having my wife's characteristics!
When my wife and I decided to have children, we began by exploring our NHS options. To be completely honest, the NHS options were fairly limited, so we started to explore the idea of treatment at a private clinic.
We then got in touch with a few clinics and attended a some of their open evenings. At that point we were so overwhelmed with information and options, but were instantly attracted to CREATE due to the clinic location being less than 10 miles from where we lived. However, we also had a very good first impression, so we decided to start our journey to parenthood at CREATE Fertility.
Together we decided to opt for Shared Motherhood, rather than just IVF with donor sperm. We thought it would be a wonderful opportunity that may help strengthen our emotional bond with our future child. The treatment involved my wife having her eggs collected, fertilised with our chosen sperm and I would then have the embryos created transferred into my womb.
We didn't find the decision hard at all. We wanted an anonymous donor from the very start, for a bit of protection. We also knew that I wanted to carry, and my wife didn't so Shared Motherhood suited our relationship perfectly.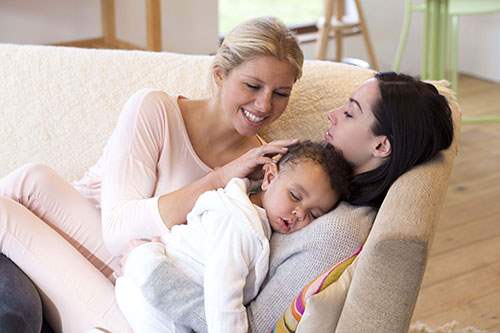 We really couldn't fault the medical care received at CREATE. My wife isn't great with medical procedures and she was pleased with how comfortable our journey was. The fact that CREATE offer a milder approach to fertility treatment also helped; there were less drugs, less injections and less procedure, which really appealed to us.
We were always able to attend appointments and procedures together, so we could both be there for each other. It was very much a joint process and the fact that we both went through it has given us much more appreciation for what we've gone through to have a baby.
I would definitely recommend CREATE. I believe that Mild IVF is brilliant because it makes treatment a lot less invasive and we were really lucky to have a positive result after our first round!
Life with a baby is amazing! We always said that we wanted becoming parents not to turn our lives upside down but for a baby to be an addition to us and our current lifestyle. We love travelling and have just returned from a trip to Australia with him; he was golden on all the flights! It's been amazing to be able to carry on as we were but with a little plus one.
Shared motherhood is still in its infancy, so the administrative side can get a bit complicated at times but I really hope it only becomes simpler and easier for other couples who want to explore it as an option. For me, it's just amazing to see our son having my wife's characteristics!