I felt like I was in really good hands.
My husband and I started trying for a baby after we got engaged for around a year, and as we were due to get married in summer in a different country, we decided to have a break because I was worried about being heavily pregnant whilst I was away. After we got married, we decided to start trying again pretty much immediately and we did get pregnant later that year. Sadly, however, in the February we suffered a miscarriage.
We were heartbroken, and our issues began to take a strain on our relationship and my emotional health. It is always difficult when you see your friends and other people that you know being able to get pregnant seemingly without issues, and you don't understand why it's not happening so easily for you. We carried on trying unsuccessfully for a few months after the miscarriage, and it came to a point where it was really wearing on both of us. I knew that we had to find out why things weren't working.
At this point, I went to a friend who'd had conventional IVF for advice and she'd told me that one of her friends had been to CREATE Fertility. She said that she'd highly recommended their more natural protocols and her treatment had been successful. After looking at CREATE's website and comparing it to other clinics, I felt so much more comfortable with the sound of their gentler approach – it felt a lot more tailored to the woman and their personal situation.
When I came to the clinic for my Initial Consultation and Scan, I had felt very fearful about what I might find out and if having children might never be possible for us. However, we were treated with kindness and honesty, and we were given hope. We found that after the first appointment and a bit of additional testing, there were some issues with the morphology of my partner's sperm, which meant that it was taking us longer to get pregnant. Our doctor talked clearly about our options with us and recommended the Natural Modified Cycle. She reassured us that very low doses of medication would be enough, and that we just needed some extra support to help to increase our chances.
After recommending the protocol, our doctor gave us health tips on how we could improve our chances of conceiving naturally over the next couple of months. This is something we really appreciated because it never felt like we were pushed into having IVF treatment, and that it was our choice if we felt that it would be right for us.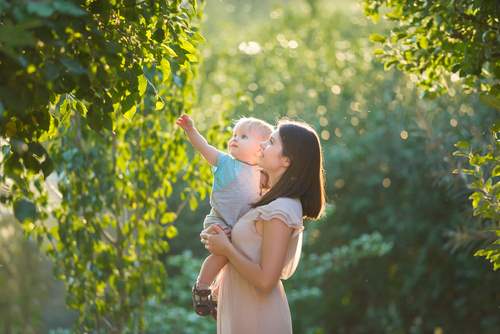 Sadly, over the next couple of months of trying we still couldn't conceive and this was when we decided to go back to CREATE for a cycle of IVF. Throughout the process, the staff went above and beyond. They always called on time with updates on my progress and how the treatment was going. After the egg collection and embryology, we were given the news that 9 eggs were collected, 8 were fertilised and 4 were high quality embryos.
I then went on to have my transfer with one of the 4 high quality embryos. After I had my transfer, I was feeling very nervous about the result, and 2 weeks later I went in to have my pregnancy blood test in the evening after I had been teaching. Because I couldn't get the time off work, I couldn't receive my results on the same day and that was difficult for me because I just wanted to know. The nurse that I saw was so kind and she said that she would call me as soon as she got into work at 7:30am the next day.
True to her word, she called me the next day and gave me the news that I was pregnant. I couldn't believe it. I just didn't think that it would work with it being my first try, and you always worry that it's not going to happen for you, but it did.
Looking back, I remember how kind and informative the team were – they would double check and triple check that I understood all of the information that they were giving me, and that I was OK. I felt like I was in really good hands.
Life with a little boy is amazing. He's a bit of a cheeky monkey – he's always on the move looking to get into something. He's super happy and he's healthy; hitting all of his milestones so far.
I can't thank CREATE enough. They've been fantastic. All of the staff were amazing; especially the nurse who went in early to give me my result. She was just a medal, and I felt like she was that person for a lot of women coming to CREATE.
I think that it's fantastic that CREATE are opening a clinic in Oxford where there isn't much choice. There are so many women and couples that are struggling with fertility issues and are finding it difficult to open up. I think that CREATE made that a lot easier for us and I think that their natural approach is definitely the best way for women. I have spoken to other friends who went for the conventional route and it sounded so painful, and it just wasn't that way with CREATE at all. I really believe in the methodology that CREATE use, and I believe that quality over quantity is certainly the way forward.