For us, the best parts of our treatment with CREATE were the genuine care that the staff have for you
We had been together nearly four years when we decided to have fertility treatment. We had just bought our first house together and it felt like the right time to start a family. We heard about CREATE from a friend and decided to attend an open day.
We did extensive research before attending an open day, such as looking into other clinics in the area but we found that CREATE could move the treatment process along the quickest. The waiting list for an initial appointment with the other clinics was around six to eight weeks, whereas CREATE could see us the week after we called to book.
Carrying out thorough research was very useful as we were able to go into our initial consultation at CREATE with an idea of the treatment we wanted to have, explain this to the consultant and begin our treatment swiftly as we were well informed already.
Our treatment went very smoothly and we were able to do everything that we wanted to. I wanted to carry the baby, whereas Laura didn't want to carry but wanted to donate eggs to me as well as donate eggs to CREATE's egg bank. We hadn't checked our AMH levels or egg reserve before treatment but it worked out perfectly as, if we had wanted to do the treatment the other way round, we wouldn't have been able to because it turned out that I wouldn't have had enough eggs to do egg-sharing, whereas Laura did.
We had our initial consultation in Bristol. We needed to have some blood tests to see if we would go ahead with the egg donation and the freezing of Laura's eggs. Laura had her AMH levels tested at this point and as soon as we knew that her AMH levels were suitable for egg sharing the process began.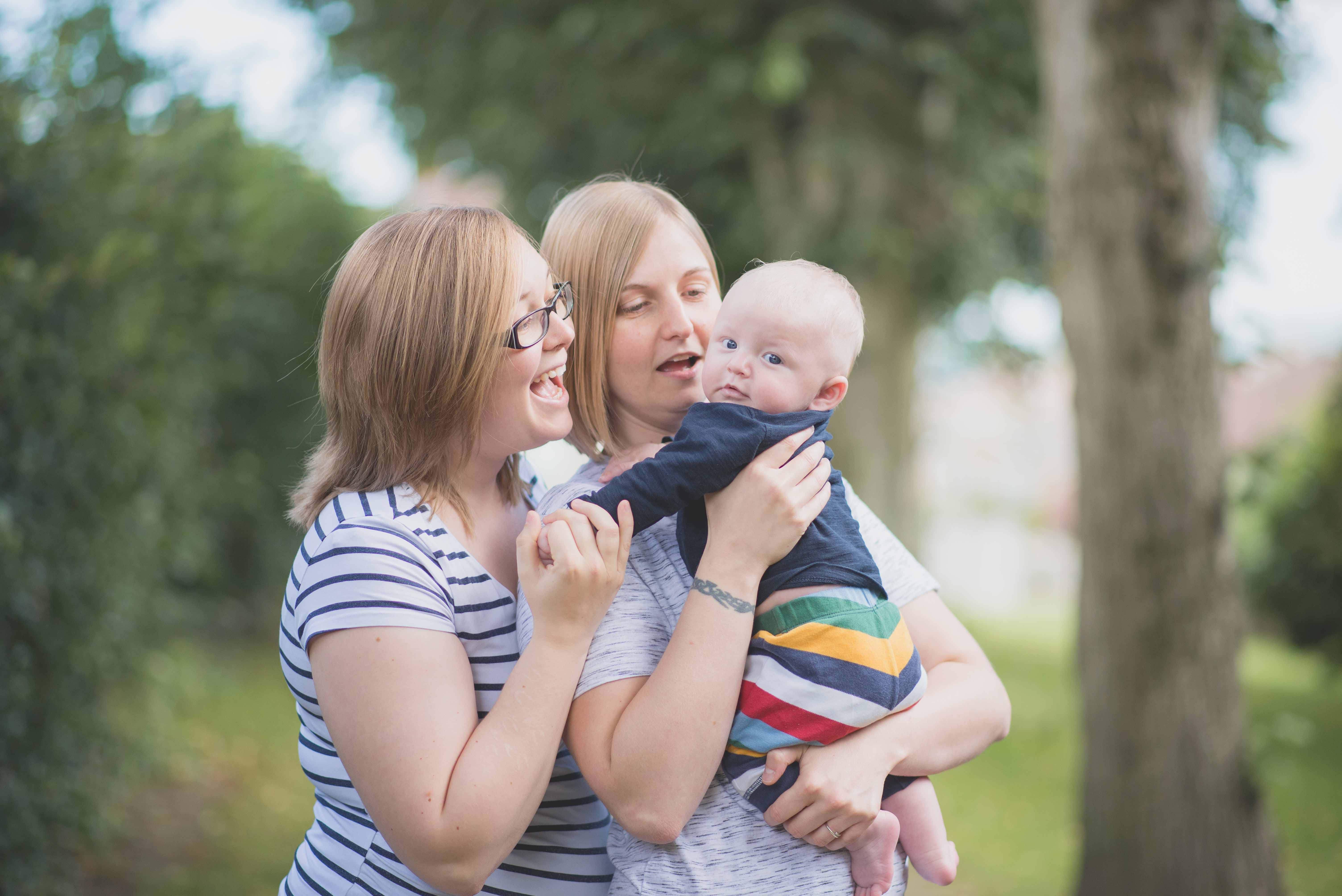 Laura began her side of the treatment and started taking hormones to increase the growth of her follicles. She had around five scans to monitor the growth of the follicles and once they had developed to an optimum size we were booked into the Wimbledon clinic for the egg collection.
We had already chosen our sperm donor from Denmark and had it shipped to the Wimbledon clinic. The sperm needed to be in the lab ready for the egg collection so the embryos could be created straight away; they were then frozen.
We then had to wait for my cycle. The medical staff knew roughly when ovulation would occur but I was given an injection to trigger it. I had the trigger injection on the Thursday evening and we returned to the Wimbledon clinic on the following Sunday for the embryo transfer. It all became very real at that point. Although it was likely that I would have ovulated naturally, the trigger injection was useful as we could arrange time off work and plan our travel arrangements.
After the embryo transfer, we had a two week wait until we done our home pregnancy test. The test came back positive!
The fertility nurse that treated us at Bristol was key to keeping everything running smoothly for us. We would email the nurse with any queries we had, or we would give her a call, and she would respond straight away. She was very good at reassuring us and putting us at ease. If we had forms to fill out, the nurse would book us an appointment and we would go through the forms together.
The nurse we were treated by at Wimbledon was also brilliant. Everything was in theory until our egg collections and embryo transfers took place and it became quite scary. She was excellent with us; we were very anxious and didn't know what to expect of my embryo transfer and she was very supportive.
The most difficult part of the journey for us was choosing a sperm donor. It took us a month to choose a donor because we were determining the genes of our child without knowing the individual and it was a huge responsibility.
We both have blonde hair and blue eyes so we were looking for a donor with these traits. This narrowed the search down significantly. We were provided with a lot of information about the donor, including height, body type, hair colour and eye colour. We were also provided with information about the donor's occupation, their interests and hobbies, what food they like and what music they listen to. We could also see a family tree of the donor, with information about their parents and grandparents. On top of all of this, the donor provided a statement about why they wanted to donate.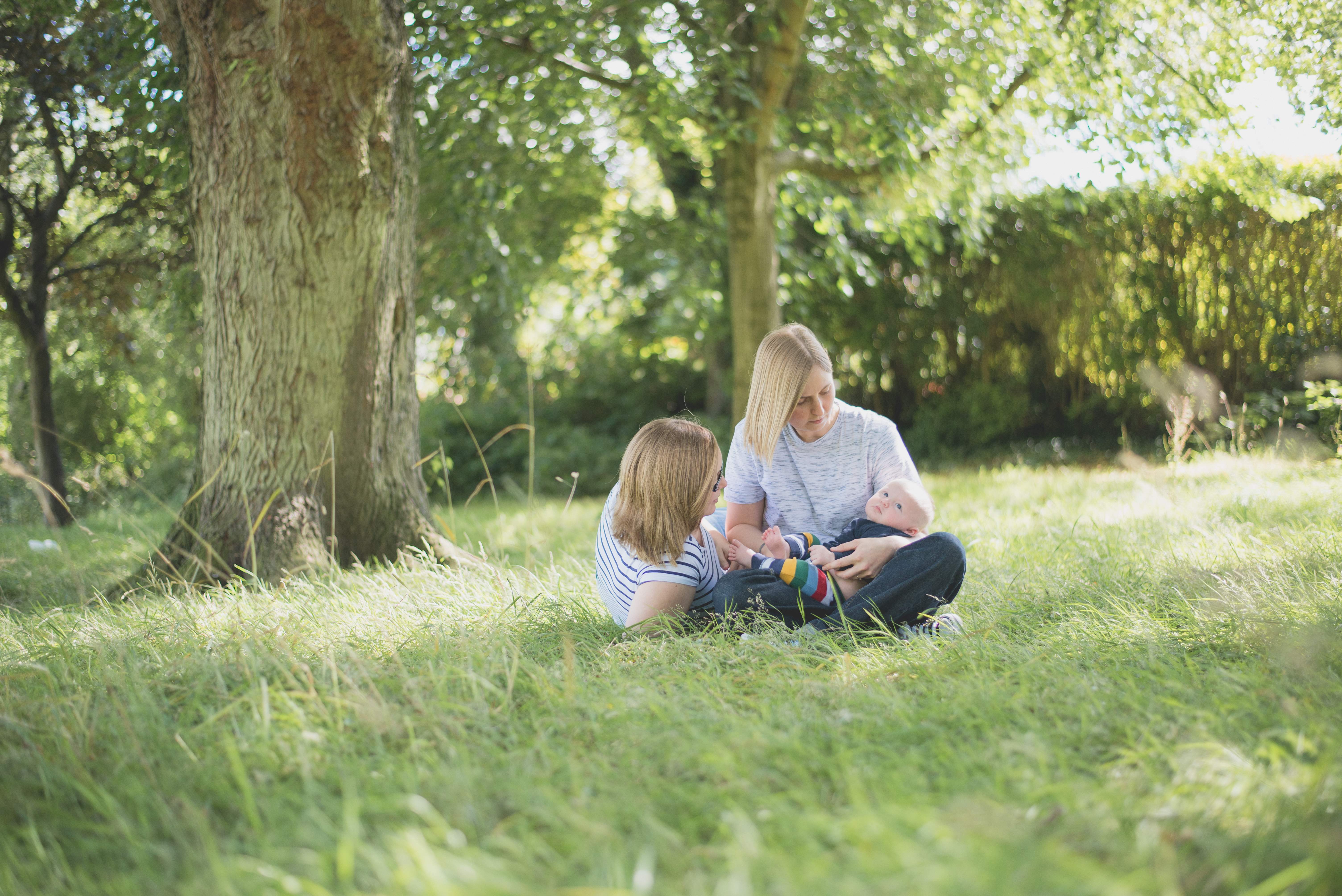 Life with baby Xero is super tiring, but he is a very content and beautiful little boy. We were very prepared and organised but, of course as babies are, he is very demanding of our time. It's a whole new world that we've entered.
For us, the best parts of our treatment with CREATE were the genuine care that the staff have for you and the fact that you're treated as an individual. We never felt like we were just part of a system and we always felt that we were given enough time. If we had questions to ask, the staff were always willing to listen.
Also our treatment was very smooth and it was all very well explained; we were never unsure of the next step. We were very well informed and no question was a silly question. You've got to ask every possible thing you can think of.
Our advice to other same sex couples would be to enjoy your journey; whether your journey goes well or you encounter problems. Try and embrace the roller coaster, it is hard but in the end, it's your journey.