Being able to start our own family has taken our relationship to the new level and has opened up a new chapter in our lives
Five years ago we didn't think that having our own babies was even a possibility, we thought we'd have to adopt. Luckily for us, fertility treatment is a lot more accessible these days.
During our initial consultation and scan with CREATE, it became clear that IUI (artificial insemination) was the most suitable option for us, mainly because we were a good age for it and had no fertility issues. We also did a series of blood tests to make sure that all our bloodwork was right for pregnancy.
When we went home and discussed it, we came to the conclusion that I (Sabrina) would try first as I am a little bit older than Keisha and at the time my body felt more ready for it. We both want to experience pregnancy, so we also decided that Keisha will have our second child.
It was quite a hard decision choosing a sperm donor with only a few basic characteristics to base it on, however we knew we found the right person when we read a testimony he wrote for any future parents and their donor conceived children. He came across as very similar to us and our values; it really felt like he matched us. That really helped us in making the decision to choose him as it almost felt like he was part of our circle of friends, someone we would hang out with.
Once the sperm was ordered, and had arrived in the clinic, we were ready to start the treatment cycle. As we were doing IUI there was no need for any medication however we did visit CREATE for a day 7 scan to check my follicles were growing. I also started ovulation tracking at home, first thing each morning. Later that month, when I got a positive surge, it was the sign that my ovulation was imminent and we went back in to CREATE for the IUI procedure. The procedure went really well and everyone made me feel really calm. It was just like having a smear test really. Unfortunately the first IUI attempt was unsuccessful, however that didn't stop us and certainly didn't change the passion we had for starting our own family. So I went through the process again the following month and was overwhelmed to see our first positive pregnancy test.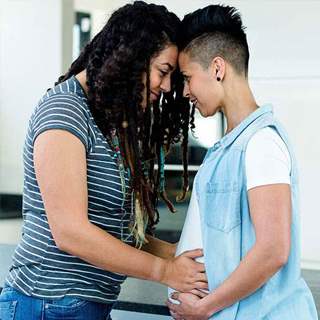 Everyone at CREATE was very warm and supportive every step of the way. They made our whole experience really lovely, especially during both procedures where I felt completely relaxed and calm.
Life with a baby has been amazing. The first month after becoming new mums was really hard as we were finding our feet and didn't really know what to do. It does get easier though, and we are both completely in love with our beautiful little girl.
Being able to start our own family has taken our relationship to the new level and has opened up a new chapter in our lives. We are on a wonderful journey and if you're in a same sex relationship and considering starting a family, there are so many options that will allow you to do that. We are now planning to give our daughter a blood sibling using the same sperm donor.