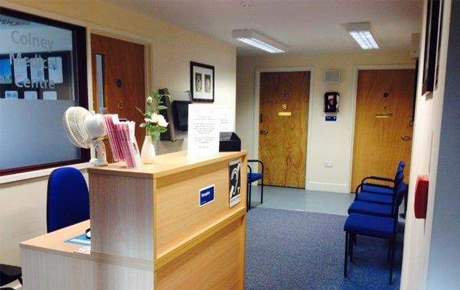 Hertfordshire Open Days
Colney Medical Centre, 45-47 Kings Road, St Albans, Herts, AL2 1ES
Clinic open evenings postponed
The safety and well-being of both our patients and staff is our main priority, and based on the latest Government and Public Health England guidelines around social gatherings, we have made the decision to cancel our current diary of open evenings. We apologise for any inconvenience caused but we're sure you can appreciate and understand this decision.
However, we still want to share with you the benefits of treatment with CREATE Fertility and our approach to Mild and Natural IVF, so we have organised weekly webinars hosted by our Founder and Medical Director, Professor Nargund. These will take place at 6pm on Tuesdays and will allow you to learn about CREATE Fertility and ask any questions from the comfort of your home.
Why join our webinar?
Our webinars are designed to give you all the information you need, that's why they're always led by a fertility consultant. You'll learn more about:
Our Natural, Safe and Ethical approach to fertility treatment
Why Mild & Natural IVF should be your first choice
The different types of fertility services we offer
What your treatment journey with us looks like
Our success rates
What happens at an Initial Consultation
Your next steps
Virtual consultations
After the event you will have the opportunity to book your virtual consultation with one of our experienced fertility consultants to discuss your individual circumstances and how we can help you.

Professor Geeta Nargund is a Senior Consultant Gynaecologist and Lead Consultant for Reproductive Medicine services at St George's Hospital, London.
Professor Nargund has published more than 60 peer-reviewed scientific papers including abstracts and also several book chapters in the field of reproductive medicine.
She is a pioneer in the field of Natural and Mild IVF and Advanced Ultrasound Technology in Reproductive Medicine, and is an accredited trainer for Infertility and Gynaecological Ultrasound special skills modules by the Royal College of Obstetricians & Gynaecologists (RCOG) London and British Fertility Society (BFS).
Professor Nargund pioneered the use of follicular Doppler in assessing "Egg quality" in humans. She also published the first scientific paper on "Cumulative live birth rates with Natural cycle IVF".
She is a co-author of the scientific paper on the innovative Simplified Culture System, which allows IVF to be performed without the need for a conventional laboratory. This scientific paper won the 'Robert Edwards Prize' for the best paper of the year in RBMonline in 2014.
Professor Geeta Nargund is also the Co-Editor-In Chief of The European Scientific Journal, Facts, Views and Vision in OBGYN and is on the International Editorial Board of the Scientific journal, The Journal of Human Reproductive Sciences.
Professor Nargund is the President of the International Society for Mild Approaches in Assisted Reproduction (ISMAAR), a UK registered charity. Through her leading role, she has been the voice for women's choice, health and education in the field of Assisted Reproductive Technology (ART) globally. She promotes safer, less-drug-orientated and accessible ART.
Professor Nargund was also a member of the WHO (World Health Organisation) expert sub-group on infertility guidelines. She is a member of the steering committee of the Special Task Force on "infertility in developing countries" set up by the European Society for Human Reproduction and Embryology (ESHRE), and was the Chair of the ESHRE Special Task Force on "Mild ART". She is a regular invited speaker at national & international scientific conferences.
Professor Geeta Nargund is a visiting professor at various universities; Hasselt University, Medical Faculty (working at Genk University Hospital), Belgium; St Marco University Lima (oldest university in Latin America) and SDM Medical College, India, and has also been a senior governor of primary and secondary state schools in south London.
She is actively involved in research into making IVF more natural, accessible and safer for women and children. She is the Chief Executive of the UK National charity, Create Health Foundation. This Charity funds and supports women's health education in the UK and in Africa.
Professor Nargund is a regular speaker at Westminster Health Seminars on Health and Social care in the UK. She has also been an invited speaker at the women's health conference along with the members of UN and also at a European Women's conference on "Female Quality of life in the developed World".
She appears in Tatler's Doctors Guide for 2013 and is also an associate member of Guild of Health Writers UK. She cares deeply about and has been actively involved in charities promoting education, women's health and development, equality and social mobility in the last 15 years.
Selected associated activity:

Professor Campbell was Academic Head of the department of Obstetrics and Gynaecology in King's College Hospital, London for 20 years and then held the same post at St George's Hospital Medical School, London.
Professor Campbell was President of the International Society of Ultrasound in Obstetrics and Gynaecology for 8 years and is Editor-in-Chief of the Scientific Medical Journal 'Ultrasound in Obstetrics and Gynaecology'.
He holds many international honours and is the Honorary Fellow of the American College of Obstetricians and Gynaecologists.
He is a pioneer of Ultrasound Diagnosis in medicine and has introduced many new techniques. He has recently introduced 3D scanning to the UK and set up the first 4D Ultrasound Clinic.
He has introduced many new techniques such as the routine pregnancy scan, the early diagnosis of fetal abnormalities, the assessment of fetal growth, and also the well-being and ultrasound screening for ovarian cancer.

Dr Abhijit Kulkarni is a Bachelor of Medicine & Bachelor of Surgery (MBBS) with a Diploma in Obstetrics & Gynaecology and a Member of the Royal College of Obstetricians & Gynaecologists UK (MRCOG).
He completed his undergraduate & postgraduate training in India in 2003. Since then he has worked in India and South Pacific countries in Obstetrics & Gynaecology for 7 years. He received a sponsorship from the RCOG in 2010 and was invited to work in the UK. Since then he has worked for 5 years in Obstetrics & Gynaecology in various NHS hospitals.
He is highly experienced in all aspects of reproductive medicine & endocrinology including management of polycystic ovaries, egg freezing, same sex couples, recurrent implantation failure after IVF treatment, recurrent miscarriage and those with premature ovarian insufficiency.
Dr Kulkarni is extremely passionate about working at CREATE Fertility and providing tailored treatments to meet the unique and specific needs of patients offering high quality care and a satisfying patient experience.