NATURAL AND MILD IVF WITH DONOR SPERM
Scroll down for more information
Based on your selections, we are showing you information on Natural and Mild IVF with donor sperm, the treatments pioneered be CREATE Fertility. Natural and Mild IVF treatments that are focused on creating high quality embryos, rather than high quantities of embryos. Compared to conventional methods, Natural and Mild IVF treatment is more gentle on your body, safer and more affordable.
By tailoring the treatment to your circumstances, we will aim to achieve the best chance of success for you. On this page, you'll be able to find out more information about CREATE, our treatments, success rates.
Please note, the selection/information on this page is not an assessment of your condition or a recommendation of treatment.
I need help getting pregnant
Based on the answers you have provided, Natural and Mild IVF treatment may be the best treatment option for you. In the UK, the practice of Natural and Mild IVF has been pioneered by CREATE Fertility and there are lots of benefits with this approach. There may be other options open to you, such as IUI. The consultant will advise you on the best treatment for you. On this page we have put more information about the treatments.
I am single
Many single women come to the clinic wishing to have a child. If you feel the time and environment is right for you, we can help you achieve your ambition of becoming a parent. We perform a comprehensive fertility assessment for you before treatment begins, which gives you a chance to assess your situation and what you want to do next.
I will be using my own eggs
Either Natural or Mild IVF is suitable for women who are ovulating. Mild IVF tends to be more suitable for those with a good ovarian reserve, whereas Natural IVF tends to be more suitable for those with a lower ovarian reserve/low AMH/high FSH. Our consultant will suggest a treatment option that is most suitable for you at your first appointment.
I require donor sperm
We have our own sperm bank at CREATE and we can also liaise with external sperm banks if you require an increased selection of donors. A different option is to use a 'known' donor, i.e. someone who is known to you. We can help with this process if this is what you want to do.
---
Natural
Natural IVF does not use drugs to stimulate a large number of eggs. The aim is to focus on the egg naturally selected by your body.
Natural IVF aims to use your body's natural selection process to obtain a high quality egg.
By reducing the cost of drugs, the cost of treatment is greatly reduced.
Mild
Mild IVF uses low doses of stimulating drugs to gently encourage the growth of the eggs without over-stimulating the ovaries. The aim is to produce a mild response.
In Mild IVF our focus remains on the quality of eggs and embryos. It has been shown that higher quality eggs are collected in Mild IVF compared with conventional methods.
Mild IVF uses reduced amounts of drugs, bringing costs down. An independent study found that CREATE had the 'lowest cost per baby' in London (2011)
Convential
In conventional IVF, your natural cycle if shut down and then re-started. You are given high dosages of fertility drugs. Length of treatment is 4-6 weeks.
High numbers of eggs are collected, but a higher percentage of these are abnormal compared with Mild IVF. Also, women with low egg reserve do not respond to the high stimulation.
The high doses of drugs used in Conventional IVF means that costs can be very high. These costs can be avoided by CREATE's approach.
Expertise and Experience
Our Medical Director, Prof Geeta Nargund is a pioneer of Natural and Mild IVF. We are dedicated to Natural and Mild approaches to treatment and we achieve the best results with these methods. Our Consultants are all highly experienced and have been trained in our methods by pioneers in the field.
Quality not Quantity of eggs
At CREATE Fertility, we advocate Natural and Mild approaches because they focus on the quality of egg/embryos, not the quantity. There is considerable scientific evidence to show that the percentage of high quality embryos produced from lower stimulation IVF cycles are higher than those produced in conventional IVF.
Increased Safety and Healthier Babies
At CREATE, the side effects and complications, such as Ovarian Hyperstimulation Syndrome (OHSS), caused by fertility drugs are either significantly reduced or eliminated. CREATE Fertility has an excellent safety record. Also, it has been shown that babies born through more natural IVF treatment tend to have a healthier birth weight and are less likely to be premature, compared with those born from conventional IVF treatment.
Patient-friendly
The more natural process reduces the emotional and physical stress of fertility treatment. There are fewer hormones involved, reducing their impact on your overall system. Treatment only takes 2 weeks, compared to the 4-6 weeks of conventional treatment. Our theatres are also open 7 days a week so we can fit your treatment around you, rather than the clinic.
Using Advanced Ultrasound
We have pioneered the use of advanced ultrasound during fertility treatment. By using advanced ultrasound, we are able to tailor treatment to your individual circumstances. We measure factors like blood flow to individual follicles, which we use to help us assess quality of follicles.
Success Rates
We have an excellent track record of success and are the leading centre for Natural and Mild IVF. With Mild IVF we achieve excellent results and with Natural IVF, we are able to help many women with low ovarian reserve to have a baby. We do not have a selection criteria for treatment. We always try our best to give every woman a chance of success.
Come into the clinic at any time of the month for an initial consultation.
This includes a detailed scan and consultation.The doctor will work with you to devise a personalised treatment plan.
You will have 2 or 3 scans usually spaced 2 days apart; each takes 20 minutes.
The doctor may also perform blood tests at these appointments.
This procedure is performed in the theatre under sedation and takes around 45 minutes.
The Embryo Transfer is a quick and easy procedure which does not need sedation and feels similar to a smear test.
We will invite you back to the clinic for a pregnancy blood test and give you the results by the end of the day.
Our Success Rates
Here are some of our IVF success rates with Mild Stimulation IVF and Natural Modified IVF. We achieve excellent results with our treatments and will tailor the treatment to you circumstances.
Mild Stimulation IVF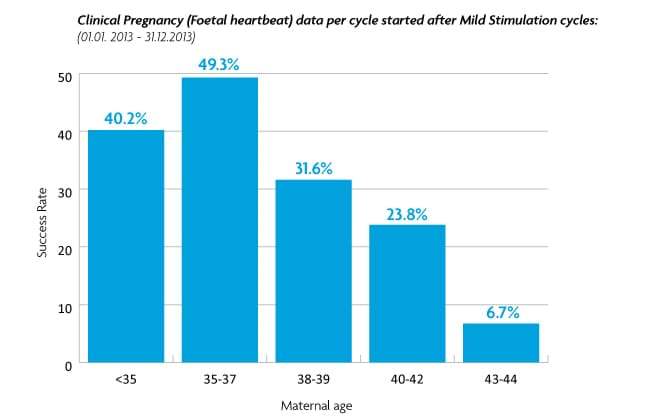 Natural Modified IVF