Natural IVF Prices
Recommended for women with low ovarian reserve
Focused on the quality of eggs and embryos
Delivered by the pioneers of Natural and Mild IVF
Natural IVF treatment tailored to you
Here at CREATE Fertility, our aim is to provide you with an outstanding level of service, whilst ensuring our prices remain competitive.
Our IVF treatments are tailored to your needs and our use of Natural and Mild IVF not only reduces the unnecessary side effects associated with conventional high stimulation IVF, but also ensures that you are only paying for the medication you really need. Natural IVF costs will depend on what treatment is most suitable for you and will be discussed further with you at the Initial Consultation.
Download our price list

Speak to our IVF specialists
If you have a question about CREATE Fertility or our pricing then you can speak to our specialists who will be happy to help.
Speak to us
3 cycle Natural IVF
£6,450 - £7,035

*

With our 3-cycle Natural IVF treatment, we provide you with 3 cycles of Natural IVF. We freeze the embryos that result from the 3 cycles and then transfer the best embryo(s) in a Frozen Embryo Transfer Cycle(s).

This package offers a reduced cost over doing multiple cycles, it also allows you to freeze embryos in consecutive cycles without a break, which allows you to store multiple embryos over a short period of time. In addition, it allows the creation of multiple embryos from naturally selected eggs without the usage of fertility drugs/minimal usage of drugs in your natural cycle.

3 Cycle Natural IVF includes
3 treatment consultations

Monitoring scans

3 egg collections

Embryology

Embryo freezing for the duration of the package

Embryo transfer

Early pregnancy scan

Clinical advice
*Does not include fees for sedation, HFEA fee, blood tests, the cost of medication and additional techniques such as ICSI. Complete price breakdown is given after the Initial Consultation and Scan.
Why Choose a 3 cycle treatment?
The three-cycle treatment offers patients an increased chance of success when compared to a single IVF cycle or three separate IVF cycles. It also greatly reduces the cost of treatment.




Natural IVF support package
In order to assist patients with planning their IVF treatment costs we have created Cycle Support Packages, which include the most commonly needed blood tests, HFEA fee and anaesthetic costs. If you wish to find out more about our support packages please contact us.
One cycle £980
HFEA fee

Blood tests (HIV 1 & 2, Hepatitis B & C, Luteinising Hormone Oestradiol)

Sedation by consultant anaesthetist
3 Cycle Natural IVF support package
Patients who choose our 3 cycle package can also take advantage of our support package to help you plan your treatment cost in advance. A full personalised breakdown of your treatment cost including medication, will be given to you after your initial consultation.
Three cycle £2,440
3 x HFEA fee

Blood tests (HIV 1 & 2, Hepatitis B & C, Luteinising Hormone Oestradiol)

3 x Sedation by consultant anaesthetist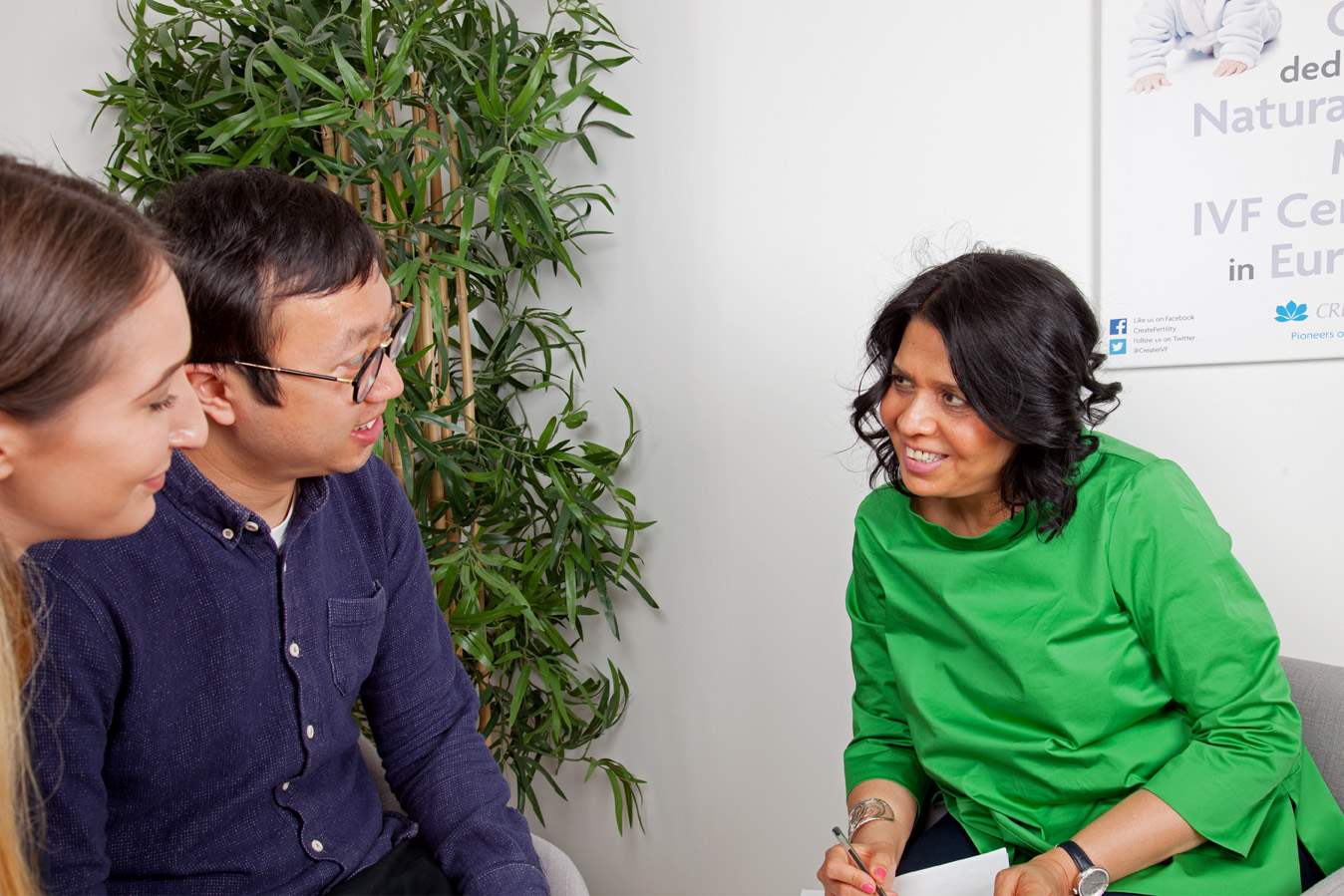 Start your journey with CREATE fertility
We can provide an Initial Consultation and scan appointment, this enables us to recommend the most effective treatment for you based on your individual circumstances.
To request more information
0333 240 7300
Lines open 8am - 6pm Monday to Friday.
With one of our fertility experts