Official guidelines from NICE (National Institute for Health and Care Excellence) state that every woman should be offered up to three cycles of IVF to give them the best chance of success, yet currently patients in Oxford are only being offering one.
These proposals are devastating for hopeful would-be parents, with many having to consider looking outside of the NHS. Women and couples are also finding that when they are looking for the right private clinic, some are being forced to travel outside of Oxfordshire for their full treatment due to the shortage of available options in the area.
We are pleased to announce the opening of our new clinic in North Oxford that offers cutting edge treatments and high quality medical care to both NHS and private patients. Our patients are able to have all of their treatment and appointments in Oxfordshire apart from medical procedures such as the egg collection and embryo transfer. For these procedures our patients will need to travel to their next nearest CREATE clinic with a laboratory (either London or Birmingham).
Enviable success rates and a strong track record 
Crucially, we offer women the chance to opt for treatment by a team that has pioneered the use of Natural and Mild IVF in the UK, achieving success rates higher the national average.
Chances of pregnancy for Mild Stimulation IVF by age: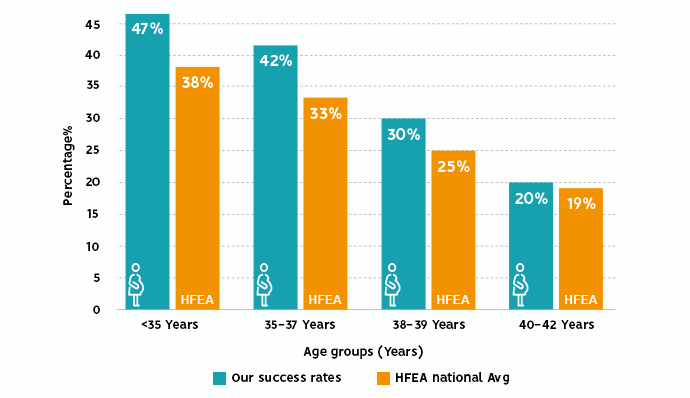 Clinical pregnancies per treatment cycle | IVF & ICSI | July 15 - June 16 | CREATE St Paul's
See all our success rates here.
Women considering IVF treatment are rightly concerned about the potential impact of treatment on their health and well-being. As world leaders in the field of Natural and Mild IVF, we champion treatments that are a safer for women and gentler on their bodies.
No waiting times, new treatments
At the new clinic, for the first time, local patients will have access to a range of ground-breaking fertility services and treatments, including the 'One-stop Fertility MOT', pioneered by the team at CREATE. We offer leading-edge treatments and screening including In Vitro Maturation (IVM), a technique which makes it possible to collect multiple eggs without hormone stimulation and mature them in the laboratory, particularly beneficial to patients suffering from Polycystic Ovaries or Polycystic Ovary Syndrome. Patients at the clinic will also be able to access Pre-implantation Genetic Screening of embryos, to assess for genetic diseases or chromosomal abnormalities, which improves IVF success rates and protects children from inherited diseases.
Affordable treatment
Appointments are available for eligible NHS patients, and savings are made for private patients who choose to have IVF with us because our treatments do not rely on high doses of expensive fertility drugs. Our treatment cycles can also be as short as 2 weeks, as our protocols do not involve 2 weeks of 'down-regulation', which is where drugs are used to shut down the menstrual cycle. We always work within a woman's natural cycle. This not only makes time in treatment shorter, but also less physically and emotionally demanding, but it also reduces the cost.
If you are researching into fertility clinics in Oxford and you are looking for successful treatment that involves fewer side-effects, our patient support team are here to help you!